215-836-4179
Flourtown, PA

Join Our Team
News & Events
Directory
Contact
Religious Community Living
Religious Community Living
A Catholic senior living community in Flourtown, PA, that is open to all
The fourth through seventh floors of the Villa are home to aging Sisters of Saint Joseph. Sisters live in individual communities and receive care according to their needs. The Constitutions, called the Holy Rule in the past, of the Sisters of Saint Joseph state: "In each stage of life, a Sister's attitudes and choices shape her later years. Even as physical energies wane, the capacities of mind and heart and spirit can continue to grow. She strives to accept change in a graceful transition. Self-paced, fulfilling activity characterizes all aspects of her life and enriches the lives of others"
(Constitutions 147.1).
When they move to the Villa, Sisters of Saint Joseph are missioned to a "ministry of prayer and presence." In their interactions with each other and with staff and visitors, they live our mission: uniting all people with one another and with God. Mass is celebrated every day, and the Sisters gather for morning and evening prayer. Exposition of the Blessed Sacrament during the day provides another opportunity for prayer. Sisters are often joined at Mass, Exposition, and other prayer times by residents, their families, and visitors. Mass is open to all, including our outside neighbors.
Through dedication to contemplative prayer, our Sisters continue to deepen their relationship with God, and in intercessory prayer, they remember our world and all people. The Sisters have a special devotion to the novena prayed every month for members of the Saint Joseph Guild.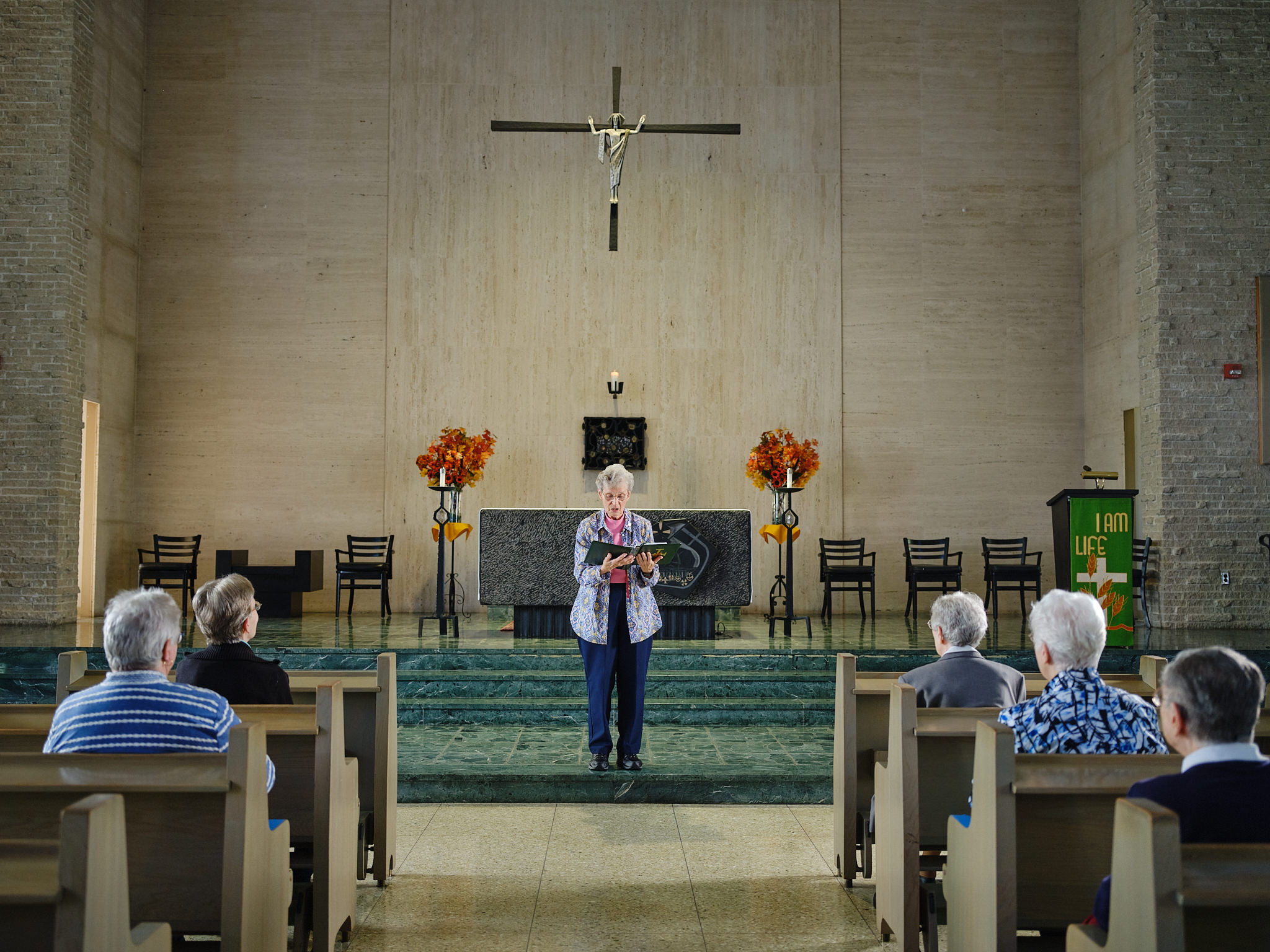 Each Sister volunteers to contribute to the life of the Villa according to her interests, skills, and abilities. Responsibilities include delivering mail, visiting the sick (with special care for our lay residents), or doing laundry for those who are unable to do so. Opportunities for enrichment, exercise, and socializing bring Sisters together for rich community engagement. Sisters of Saint Joseph who live and work outside of the Villa have special relationships with the Villa Sisters. Each convent has one or more "guardian angel" Sister with whom they share prayer intentions, life and ministry updates, and greetings on special occasions. Sister residents use phone calls, mail, email, and social media to stay in touch with family, friends, and students, to stay connected with world events, and to advocate for justice. Visitors to Saint Joseph Villa often remark on the vibrant, hospitable, and joyful spirit they encounter here!
To make a difference in the lives of our residents while enjoying competitive pay and generous benefits, please click on the link below for available positions.
See Job Openings
We welcome individuals in need of short-term rehabilitation, long-term skilled nursing care, hospice care, and respite care. Please click on the link below to get started.
Why Donate
"I love living here! Everyone is attentive and friendly. People stop by my room all the time asking if I need anything, it's really sweet."
—Resident from Good Counsel Community
"I have worked at the Villa for almost 8 years and I feel like the Villa is home. The residents, their family members, and my co-workers are like family."
—Staff from the Villa
"Words cannot express the depth of gratitude to all of you for the dedication, loving care, and loyalty to Villa residents at all times. You are truly a special group of people who work at the Villa!"
—Family member


The Maxims of the Sisters of Saint Joseph are short sayings of wisdom given to our first Sisters but meant for all persons who aspire to make a difference in the world.
Hold your desires lightly; entrust everything to God.
— SSJ Maxim 17